Investigator Led Research
Our approach is to define research questions relevant to local patients, and then take these back to the bench. To this end the unit is focusing increasingly on a growing burden of urticarial disease and immune-mediated adverse drug reactions.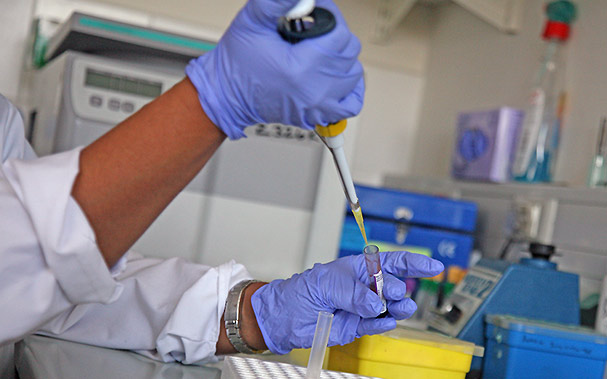 Examples of current investigator-led projects
Programme of clinical and mechanistic research on immune-mediated drug hypersensitivity reaction in persons living with HIV [Collaboration centred in South Africa's 1st multi-disciplinary drug hypersensitivity clinic; key collaborators – Dr Ranks Lehloenya, A/Prof Sipho Dlamini (co-PIs) and other UCT collaborators; Key international collaborators: Professors Elizabeth Phillips (Vanderbilt university)].
Specific projects already underway include:
Structural and functional basis of severe hypersensitivity associated with Nevirapine [funded through Vanderbilt collaboration]
Genomics study of anti-tuberculosis drug-induced hypersensitivity reactions [MRC grant 2015 awarded]
Characterisation of efavirenz-associated adverse drug reactions [collaborator: Dr Thuraya Isaacs and Dr Ranks Lehloenya]]
Hepatitis with severe cutaneous drug reactions [MMed candidate: Niita Haitembu; Collaborators: Dr Ranks Lehloenya, Prof Wendy Spearmen]
The epidemiology of penicillin hypersensitivity in the Western Cape
Hereditary angioedema (HAE) in the western cape and the use of fresh frozen plasma to treat acute attacks of angioedema [MMed student: Dr Khalid Coovadia; Collaborator: Professor Paul Potter, Professor Yazied Clothia]
Professor Potter and the allergy unit has cared for a cohort of more than sixty patients with hereditary angioedema. This uncommon, but life-threatening genetic condition requires specialised care and ongoing advocacy. In South Africa, and other developing country settings, the majority of HAE patients cannot access international standard of care treatment. Despite this outcomes have been good with the use of older, more affordable medications, such as the use of Fresh Frozen Plasma for acute attacks. This project aims to audit our cohort experiences to share with other clinicians facing similar problems in low and middle income countries.
AAA study - Anaphylaxis in anaesthesia South Africa study [collaborators: Dr Di Hawarden, start-up funding through ALLSA award]
Peri-operative anaphylaxis is a life-threatening complication of both elective and emergency surgery. Correct diagnosis of anaphylaxis can be challenging given the physiological changes associated with both anesthesia and surgery. Furthermore, identifying the offending drug can be difficult given the many agents administered simultaneously. Specialist allergy work-up is thus required, and can mean the difference between safe repeat surgeries, abandoned surgical intervention or even repeat anaphylaxis. The incidence of peri-operative anaphylaxis varies across populations and amongst studies, and is dependent on reporting patterns and study designs; patterns of causative drugs also differ which is dependent predominantly on prescribing patterns. A well-designed prospective study of peri-operative anaphylaxis has not been conducted anywhere in South Africa. The aim of this project is to determine the incidence of peri-operative anaphylaxis, the pattern of causative agents, and the outcomes of repeat surgery in four hospitals in the greater Cape Town area. This study will both generate novel data as well as serve as a pilot study for the evaluation of both online and paper-based reporting tools to simplify and encourage the diagnosis and reporting of peri-operative anaphylaxis. We hope that these tools and this study will lead to scale-up and progress to develop and evaluate a national registry/database of peri-operative anaphylaxis. In addition, we will use this project to optimize and standardized drug allergy testing protocols for peri-operative anaphylaxis and, funding dependent, evaluate and compare the utility, alone and in combination, of available in vitro and in vivo diagnostics for different offending drugs e.g. CAST ELISA, FLOW CAST, and skin prick testing.
Immunological characterization of HIV-negative patients with invasive fungal disease at Groote Schuur Hospital [MMed candidate: Dr Vonwicks Onyango, collaborators: Dr Sipho Dlamini (Infectious diseases), Dr Wendy Burgers lab (IDM), Dr Claire Hoving (IDM), Dr Anna Puel (France)]
Whereas fungi are ubiquitous, only a small number cause infections in humans. Innate and adaptive immune responses are usually effective in preventing disease or restricting to non-invasive infections. Invasive and severe fungal disease is usually restricted to an immunocompromised host. Secondary immunodeficiencies, especially HIV/AIDS; account for the majority of patients presenting with invasive and/or severe fungal disease, but there is a small group of patients with no evidence of a secondary cause; yet with an increased susceptibility to disease. A working hypothesis is that these patients may either possess an already described yet undiagnosed primary immunodeficiency; or carry novel genetic mutations resulting in an increased susceptibility to disease. No African studies have conducted detailed immunological or genetic analysis of HIV-negative patients presenting with invasive fungal disease This study will be a cross-sectional study to describe the clinical and immunological characteristics of a series of such patients, seen at Groote Schuur Hospital in Cape Town; South Africa. Future studies will then examine the genetics of susceptibility in this cohort, looking for novel mutations.
Primary immunodeficiency registry of SA [Principal investigator: Professor Monika Esser – University of Stellenbosch, Sub-investigators: A/Prof J Peter, Prof Stan Ress and Professor Paul Potter]
Patients with primary immunodeficiency diseases (PID) are easily missed and the "typical"phenotype obscured by the African tsunamis of infectious diseases. Novel gene mutations and PID clinical manifestations are exposed with increased exposure to infections. Registries are useful tools to create awareness and establish prevalence and spectrum of PID for different population groups. However, accuracy of diagnosis influences treatment decisions, prognosis and counselling. In South Africa, molecular investigation for genetic susceptibility to Tuberculosis (TB) has facilitated access to molecular diagnoses for a range of other PID. In 2008 a PID registry was established at Tygerberg Hospital, Stellenbosch University, ethics approved supported by other university hospitals and private practitioners. Clinical diagnoses with relevant laboratory data of consented patients were coded by IUIS criteria. Age, sex, ethnicity, family history, origin, referral site and main presenting features were entered on password protected datasheets in Excel format on secured server. For very few genetic mutation was obtained with assistance of overseas laboratories. At present, the registry consists of 320 patients, the majority antibody deficiencies. With establishment in 2013 of a molecular PID working group (PIDDGEN) supported by the TB research laboratory facility at Tygerberg Medical School, novel diagnoses have been established for TB susceptibility as well as other PID. This is achieved more cost effectively and targeted with locally available exome sequencing and data analysis capacity, definitive diagnoses of South African patients with dedicated genetic counselling. It is envisaged that molecular diagnosis will become a diagnostic tool for PID diagnoses in South Africa and beyond.