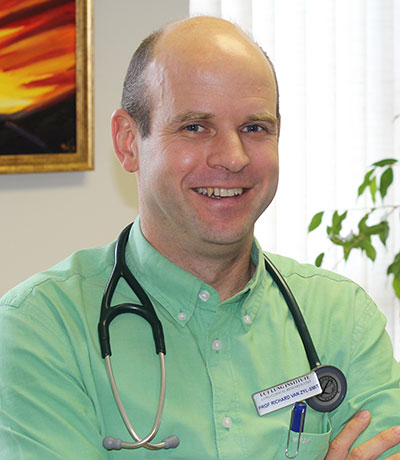 Unit Head
Prof Richard van Zyl-Smit
PhD, Cert Pulm (SA), MMED, DIP HIV Man (SA), FCP (SA), MRCP (UK), MBChB
Prof van Zyl-Smit is a specialist physician (2005) and pulmonologist (2007), and has a PhD (UCT 2011) on the effects of tobacco smoke on human immune responses to tuberculosis. He has both laboratory and clinical research experience; studies of novel TB diagnostic tests, more than 20 clinical trials of treatments for airways diseases. In 2011 he undertook a postdoctoral research fellowship at the Public Health Research Institute in New York, USA headed by Professor Gilla Kaplan. In January 2012 he was appointed as Deputy Head of the Lung Clinical Research Unit in the Lung Institute, and in 2013 became Head of the Lung Clinical Research Unit. His research interests include asthma and COPD, tuberculosis and tobacco dependence. He is the head of the Smoking Cessation service at Groote Schuur Hospital Respiratory Clinic and directs the Adolescent Respiratory Service. He has over 30 publications in peer review journal, is chairman of the South African Thoracic Society Scholarship selection committee and an active member of the American and South African Thoracic Societies.
Lung Clinical Research Unit (LCRU)
The mandate of LCRU is to be a world class research unit and clinical centre addressing priority health issues around lung health in Africa. Through partnerships we develop new respiratory medications, and use laboratory research to understand mechanisms of disease related to tobacco and indoor air pollution. We teach and train health care professionals and provide clinical service to those living with respiratory disease.
"1.3 Billion people smoke" – roughly 7 million in South Africa
COPD is the 4th most common cause of death
South Africa had the highest asthma-related death rate globally
27th Nov 2019
CAPE TALK 567AM – 29 November 2019 – Lunch with Pippa Hudson Guest: Richard van Zyl-Smit | Professor Pippa in conversation with Associate Professor Richard Van
[…]