Another amazing accomplishment for the Lung Infection and Immunity Unit at this year's South African Thoracic Society Congress as four of the units scientists won awards. Malika Davids and Jason Limberis won for best oral presentations, and Anil Pooran and Michele Tomasicchio won for best posters.
Best oral presentations:
Malika Davids (principle scientific officer) won for her work on Lung orientated approach to correlates of risk in TB
Jason Limberis (post-doctoral scientist) for his work on outcomes, infectiousness, and transmission dynamics of patients with extensively drug-resistant tuberculosis and home-discharged patients with programmatically incurable tuberculosis: a prospective cohort study
Best Posters award:
Anil Pooran (post-doctoral scientist) for his work on the evaluation and characterisation of interleukin-9 producing T-cell subsets
Michele Tomasicchio (principle scientific officer) for his work on injectable contraceptive medroxyprogesterone acetate decreases peripheral effector cell-mediated Mtb containment through immunosuppression at multiple levels involving the glucocorticoid receptor.

From Left: Dr Malika Davids, Dr Jason Limberis, Dr Anil Pooral and Dr Michele Tomasicchio
Awards at Medicine Research day (Department of Medicine) held at Nico Malan conference centre, Groote Schuur Hospital, October 2017.
Congratulations to two of the Lung Infection and Immunity Units staff members. Michele Tomasicchio (Principle Scientific Officer) who won best oral presentation for his work on autologous dendritic cell vaccine polarizes a TH-1 response and Dr Ali Esmail (pulmonologist) who won the best poster award for his work on diagnosing Tuberculosis: the role of urinary Liproarabinomannan and GeneXpert-MTB/RIF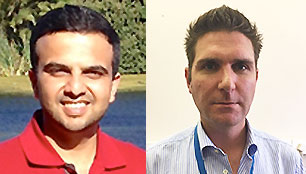 From left: Dr Ali Esmail and Dr Michele Tomasicchio